After Nine to Five
has become one of my most favorite blogs! Ashley is so sweet and I love that she stays so true to herself. She really inspires me and this week she is trying to inspire us all to
Bare Our Souls with Secret Week
. If you'd like to participate, you can click on this link: You can participate anonymously as well!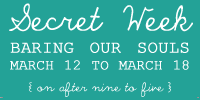 When I first read about it, I immediately responded, saying I was all in! As I sit here tonight baring my soul, my fingers aren't moving as fast as I thought they would. I'm not sure that sharing things about myself with blogland is what intimidates me. There is such comradery between us girls (and I'm sure guys too ;-)) and have found that there is more support here and encouragement, so who am I "hiding" from? It's much easier to tell your secrets to a faceless name, than to show vulnerabilities to the "faces" we know. One thing that is intimidating to me personally is that almost every blog I read seems like they have a perfect life. I know not everyone behind the posts that I read can have the perfect life that their words and pictures portray. It seems like the only thing that is shared, that might show imperfections, is a picture of a piece that didn't turn out quite right, or an occasional picture of a messy house to show what their house looked like before staging it for that beautiful photo. It sometimes can make you feel like "your the only one". I know that that isn't true, because I am guilty of the same thing. I don't think that we need to be negative to share a bit of our struggles (whatever that may be) and truly feel that, for me, this can help you get to know me and why I do, or don't do, the things that I do.
Do you think that I am rambling??? Procrastinating?? Ok, here go's....
One thing that I have never shared, that really weighs heavy on me, is that my husband has been unemployed for over 7 months. And for those of you who follow me, you know I am a SAHM. Not a good combination. I don't have to get into the details of everyday life, because with 3 kids I think the struggles are just obvious, but I would like to share with you how it affects my thinking in terms of my blog. Back in September, I took a bit of a break from blogging because we moved. What should have been exciting, turned into the worst time in my life. We did manage to come up with enough money to get into our house, but it is very hard for me to "feel at home" with such uncertainties. How this affects my blog? Well, I have always LOVED to decorate, but I have found myself (for the first time in my life) not being able to commit to even hanging a picture. I feel like I can't show the "real" me, because I can't
BE
the real me! I do my posts on the furniture that I redo (and I
love
to redo furniture!), but I am only able to do these things in hopes of selling them. What I
REALLY
want to be writing about are the beautiful rooms that I have created in my home, but that seems to continue to have to only stay as visions in my mind.
I
truly,
from the bottom of my heart, love to blog and everything there is about it. I never knew that you could actually make an income from it. I think
that
is a great way to start a blog! To do something without knowing that you could actually be compensated for it, in my opinion, is when you really "
do you
". When I realized that I could possibly make an income doing what I love, was awesome! But finding out that you
can
make an income doesn't mean that you
will
make an income (as we all know). It's not easy to get your name out there, and one of the ways my blog is affected by our unemployment, is that I am unable to afford some the things that I want for my blog. Such as advertise my blog. It seems like such a small price to pay to get your name out there, but every penny means something when you have none. I really want to do a link party, and in time I will. I also want a .com, but that will have to come in time as well.
None
of these things are necessities! And, there are
SO
many free resources and wonderful bloggers out there, that I
know
that I don't need money to grow my blog. But those
are
things that I think about when I think "if I had money I'd do that".
I also want you to know how thankful I am to have found blogging. It is such an outlet for me. It's like a bottle of wine....takes my troubles away ;-) Ok, so I'd be puking if I drank a bottle of wine, but you know what I mean. I feel so blessed to be a part of this wonderful community, and I find nothing less than inspiration for a better life here. When I share my posts, I really
am
sharing me.....just leaving out the parts that make me, well, "not" me. I pray that our situation changes soon, but I know that no matter what I will continue to grow in my blog. It's easy to do something you love, whether you make a paycheck, or just a penny. I know that I never have to make any money from blogging, but I have to be honest, I would love for this to be my way to contribute to my family.
Thanks so much for stopping by and ready a bit of my secrets! I hope to read some of your secrets!!
This is a whole week series! Man, I feel like this could be a week of downer posts for me!! I do hope that if someone else is out there with the same family stuggles, this will let you know that your not alone (or make me feel like
I'm
not alone)