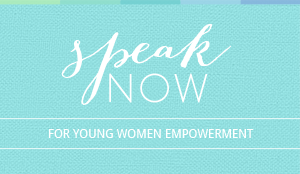 When I look at the date of my last post, my heart drops a bit, because I don't think that I've gone a week without writing something in almost a year and now I am creeping up on 2 weeks!! I'm so sorry that I have had to take a blogging break (unintentionally), and I have so much to post about! Today is the much anticipated day of the launch of the new interactive website
Speak Now
!! I couldn't be more proud, and well privileged, to be a part of this non profit organization founded by Ellie Coburn. I introduced you to this amazing young woman
earlier
in the year, and since that post, Ellie has brought Speak Now to new a whole new level. She has put together an amazing team (which this little lady right here is a part of!) dedicated to bring hope and empowerment to women around the world of all ages. A place where you know,
your voice is heard and you are important
!
Today is also the much anticipated day of
Speak Out Loud
, that's where my part in the Speak Now Team comes in. I am the jewelry designer and shop owner of Speak Now's organization! I wanted to be able to help this organizations vision, and a small way that I knew how to, was to open a store where every item is designed specifically for Speak Now.
With the sale of each item, 10% will go to the Speak Now fund, where we are also raising money to open a camp for young girls. Very exciting things to come! Can I just remind you that this is all coming from the heart and soul of a 16 year old girl! This has been such a great thing in my life, although I'm going to have to learn to balance my time better between blog, and jewelry making.
Want to help in other ways?? Go like our Facebook page! For every like, 10
¢ will be donated to our cause by our sponsors. Doesn't get any easier than that! If you would like to know how to get directly involved with Speak Now click
here
.
Feel free to grab a Speak Now button for your side bar.