Ellie Coburn is the owner and founder of the Speak Now Organization.
We are a very new organization founded for young women empowerment.
We work hands on, through the power of social media to spread awareness about the importance and value of young women loving themselves. Founded in February 2012, we are working round the clock to create an online environment full of resource and reassurance.
Today is about linking up and spreading awareness to those of you who may not have heard of us yet.
Please take a look around our site and keep in mind that we are still in the process of getting into the groove of things.
Each detail is crafted with young women in mind.
We at Speak Now have this dream-
to inspire, empower, create, educate, and love young women internationally.
We want to see young women have faith in themselves, their beliefs, values, and aspirations.
Each "like" our organization receives on Facebook funds a dime to the storefront teen shelter in San Diego, California.
For more information on us please head on over and read the "about" section of our site.
If you have ideas, want to get involved, or want more information- please contact us

here

.
Browse our site for inspiring posts and to learn more about our dreams and goals for the future of our organization.
Woman must not accept; she must challenge.
She must not be awed by that which has been built up around her;
she must reverence that woman in her which struggles for expression.
Please grab a button from our site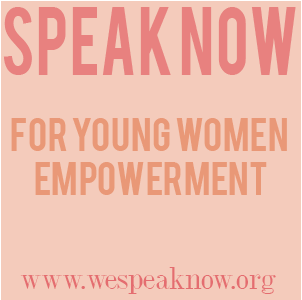 ;