Last weekend when I was at my brothers house finishing the
dining room set
, a neighbor was having an estate sale. I must have driven past it 3 times before I couldn't resist. There wasn't much but I picked up an old TV cabinet ( I'll be getting around to that soon) and this old wood stool on caster wheel (of course I forgot to take a before pic, but it's not a hard one to imagine). I got them both for 5 bucks! Apparently I was the only one that found this little stool appealing (I showed up at the end of the day).
I headed over to the
Graphic's Fairy blog
and went through her
amazing
graphics till I came across this one
then I went to the website
BlockPosters.com
that she mentions on one of her
posts
. It is free and it will resize your graphic to any size easily. The technique that I used is from that tutorial as well.
I decided not to use the wheat part of the picture since I had limited space, but I love how it turned out!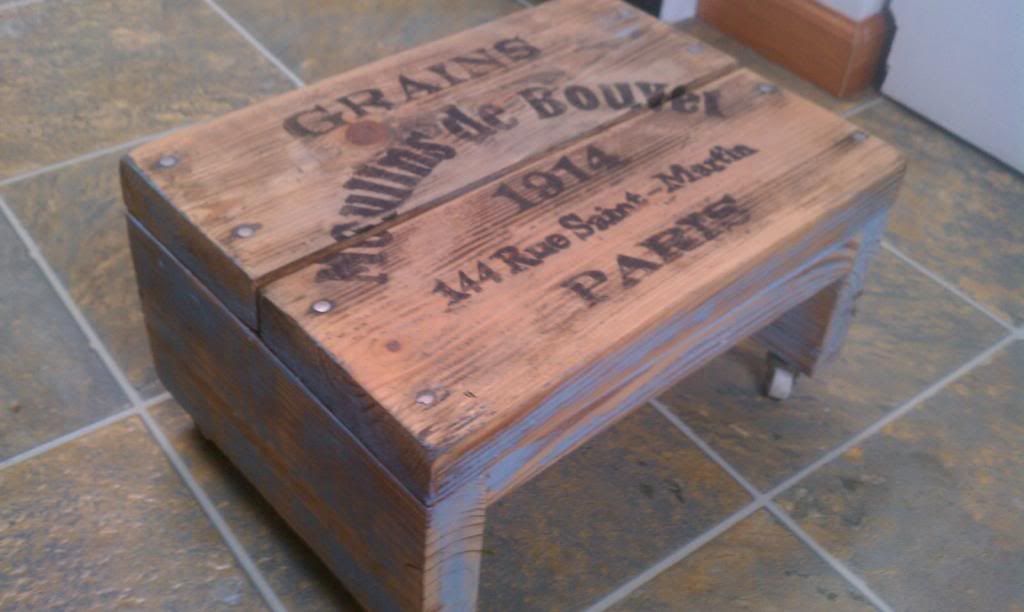 After I was finished painting on the graphic, I painted parts in blue and sanded and sanded some more to remove most of the blue. I wanted to make sure that it still looked old.
I have a confession, which I am really only admitting to because my mistake can save you A LOT of time!! I didn't wait till the black paint was 100% dry and when I distressed it, the wood became a black mess, Duh!! It looked aweful! So I sanded it down and started over :-( A days work, wasted. So lesson, wait till paint is completely dry before distressing! The second time, I waited overnight. So after distressing again
I used Minwax wipe on Poly to protect it. I LOVE, LOVE, LOVE how it turned out! I would love to hear what you think!
Linking up at: